Please scroll down to see all the recent events
Holy Week
Take a look at the beautiful crosses that we made for Holy Week. The children did a brilliant job representing the stations of the cross.
Science Week
A huge thank you to pupils, staff and parents for their enthusiasm, support and engagement in what proved to be a wonderful week of Science learning for all!!
Nativity
The children had a wonderful time performing their annual Nativity play this year 'LIGHTS, CAMEL, ACTION!' All children spoke beautifully, sang angelically and performed their hearts out!! A truly magnificent show! A big well done to all children and their hard working staff too!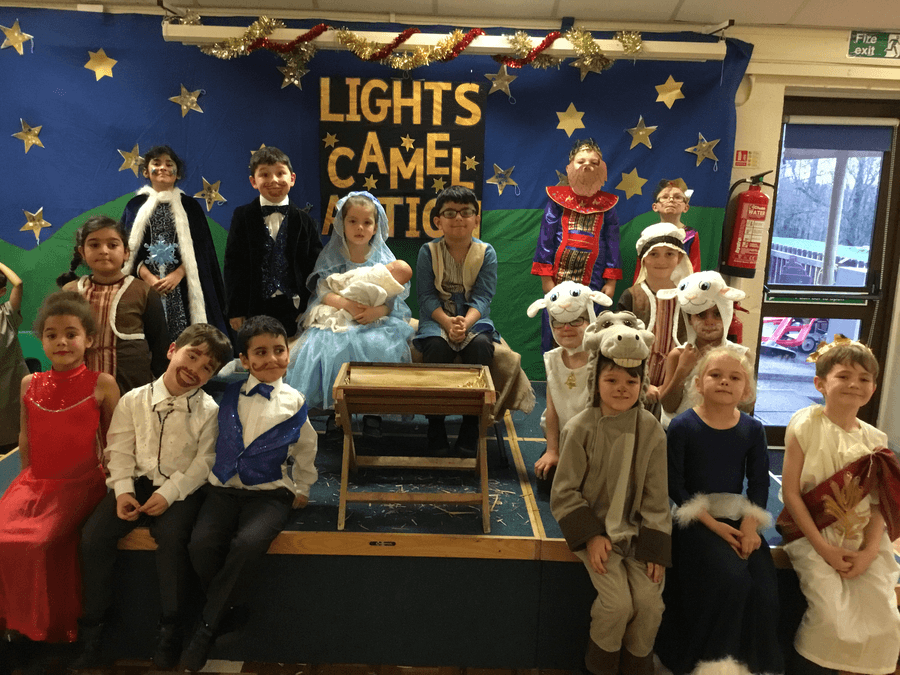 Fundraising
Year 4 taking part in a penalty shootout raising money for a defibrillator.
Turf Moor Trip
On Saturday 14th April some of our children when on a fantastic trip to watch Burnley play Leicester at Turf Moor. The children also got an opportunity to practice their football skills and take part in waving the flag on the pitch. Everyone had a brilliant day!
Aladdin - The Pantomime
On Wednesday 6th December we had a Pantomime in school - the children had a wonderful time and really got into the spirit of it.
Christmas Crafts
On Friday 1st December parents were invited in to take part in a Christmas Crafts session here at school. The children thoroughly enjoyed it and it was lovely to see our parents here joining in.
Children in Need - Pudsey Bear
On Thursday the 16th of November 2017 we had a surprise visit from a famous, yellow bear. Children and teachers were both shocked and amazed to welcome Pudsey bear and BBC Radio Lancashire into our school. Pudsey showed us his signature move 'the dab' and we all shared smiles and laughs with him. After all the excitement, he thanked us for our super fundraising. An amazing time was had by all and it really was a day that staff and children will never forget! Thank you Pudsey!
Memorial Day
Year 5 have been studying children in World War 2 and how their lives were affected. In class the children wanted to make a poppy wreath and lay it at the memorial in Nelson to remember the fallen soldiers.
Burnley in the Community
Year 5 have been working with Burnley in the Community to develop their knowledge and understanding of healthy eating and diet. As a reward Scott Arfield and Charlie Taylor came to visit the children and award them with certificates.
Dan Worsley - Author visit
On Friday 22nd of September we had a spell binding visit from children's author Dan Worsley. The children hung off his every word and came out from his assembly with great enthusiasm about reading and writing. Dan is a fabulous writer and also an amazing story teller which meant that the children (and teachers alike!) were mesmerised by his performance. We can tell that he had a real impact on us as the children are still talking about his visit and also their own aspirations to be an author like him. He really caught the imaginations of our pupils and we hope to welcome him back to our school again in the future.
Here are some pictures from his visit to give you a taste of the super time that we had.
Farm Visit
On Wednesday 27th October we had a fantastic visit from a local farmer. We enjoyed feeding and stroking the animals whilst also learning lots about them. One highlight was Miss Scott having to catch a naughty duck! We also got to meet Albert the Alpaca who was very cheeky. This was a fabulous experience which Year Two will remember forever.
Bishop John Visit
We welcomed Bishop John to open our beautiful Worship Garden.